21
« on: December 16, 2015, 10:55:06 am »
Hi there,
It's been a while since my last post here, but I need your help once more

Here is my last work, first time I work on a full background.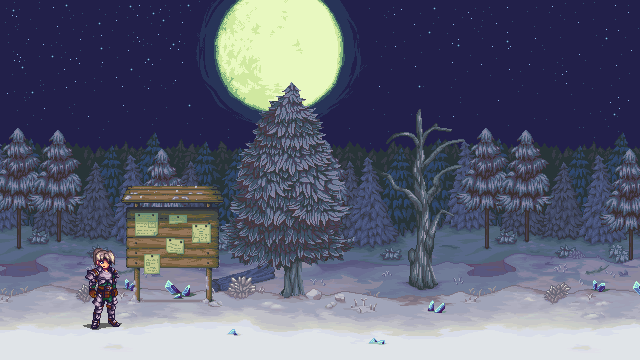 It took me 20 days to produce this picture (~10 days for snow only), and I really need some criticism about it.
I didn't put any limit on color numbers (except on character sprite), since it's totally static. It's thought to be used with parallax effect.
- I didn't know where to start with, so I heavily borrowed art style from a Card Saga Wars screenshot (
http://www.servimg.com/view/12179176/189
).
- I consider 20 days is way too much for my ongoing project (We are 2 people, only me for the whole graphics).
---Should I consider reduce my "exigence" ?
---Is 20 days a "normal time" for producing a background or is it just insane for a first time ?
---Should I employ other tech like, a 3d texture on floor but keep 2d elements / draw background (no pixel art)?
---Is there any methodology on creating background ?
- I tried to make a beautiful starry sky but I couldn't achieve what I had in mind.
There should be color variation (like a "Milky Way" effect), but everything I tried (based mostly on dithering tech) seemed "off".
Do you have any exemple of such scenery on a large sky ?
Thank you for reading