1
« on: December 12, 2012, 01:56:27 pm »
[Once we have something to show to the public we will start up a Kickstarter for around 3000$ to help with payment. That is when you will be paid anywhere from 400-1000$]
Hello, my name is Pierce Harris (ShadedColors) and I have a team of 4
people including me working on a 3/4 view Zelda style RPG with lots of dungeons and puzzles (puzzles include
moveable blocks, portals, traps, levers, triggers, riddles, slippery ice, sinking rocks, quicksand and lots
more!). The game also has a crafting system designed, and charms like diablo 2. We already have an experienced Composer,
Programmer, Story Writer and 2 Game Designers. We're looking for one or more
dedicated member(s) as a Pixel Artist who are online a fair amount. You will be creating all art aspects
of the game (except for logos, unless you are experienced in this aspect) including tiles, characters, the environment
and the HUD (if you know anyone else who can fill some of these roles let me know). Our current project is in the development stages. We have a
small prototype with place holder pixel art at the moment, 12 songs, a few sound effects, a rough main story line and a game design document.
We're using these zelda sprites as placeholder: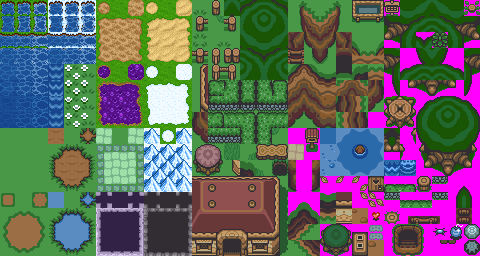 We have a small amount of pixel art that one of our members created, but he is inexperienced with pixel art:
Demo + Controls:
Demo v0.7
Controls - (Mouse to look around), (W,A,S,D to move), (Left mouse button to perform actions such as choosing dialog options and picking up items, etc.)
Music:
Emer Soundtrack
(We've been having difficulties with our SoundCloud. We apologize if any tracks aren't playing.)
POSITIONS:
-Programmer [1/1]
-Pixel Artist [0/1-2]
-Composer [1/1]
-Sound Effects [0/1]
-Writer [1/1]
-Game Designer [2/2]
E-mail me at
otherlifestudios@gmail.com
with an example of your work (multiple examples would be a plus), leave your Skype name if you wish and I will get back to you with more details. Thank you.
Other Life Studios