1
« on: January 21, 2008, 05:41:31 am »
Hi everyone.
PJ people might've seen this already, I did it for a challenge two weeks ago. I was really short on time, so I soft of half-assed .. everything. I'm pretty sick of it, but I took a little break, so maybe now I'll be able to look at it with fresh eyes and finish.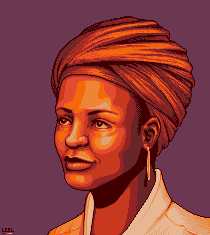 Things I'm gonna work on (tomorrow):
1. Try unify the face and turban more, though I'd prefer not to dither the face.. but.. I guess I'll see how that goes.
2. Colors: gonna add more, mainly to make the face less choppy and to make the headwrap stand out a bit.
3. Flaber gave me a ton of crits on the turban already, and I'm mainly gonna work on making the fabric seem lighter and less like a towel.
4. Background?
5. Neck needs fixing, I'll have too look up refs, but suggestions are very welcome.
CC whatever you want; I have a week left before my classes start again, so I'll try to be productive.
And just in case someone didn't see
this
on pj, I
traced
a quickie
sketch
based on this
reference
. It barely even resembles the ref, but thought I'd post it anyway.