31
« on: April 11, 2009, 03:15:42 am »
I've never played the game, but I have a couple ideas for you:
1) His right knee (his right) looks too low. Make that shadow area start about 4 or 5 pixels higher and it'll read better, me thinks.
2) His head / face is really hard to make out. I think I can see an eye, a mouth and a half-exploded / rotted face? If that's the case, then it looks great. Some hair might sell the head, as well as some indication of where his other eye would be if it wasn't destroyed. Humans are good at turning abstract shapes into faces in our minds, but it ususally helps a lot to have something that represents both eyes, even if one is just a shadow or something.
3) I dunno what's up with the vertical strip of gray from his chin to his crotch. I'm guessing this is a character trait, but I'm not sure exactly what it is.
(I just went to edit it and I can see now that it's a tongue?)
4) The colored outlines are great. They give it a really nice, animated sort of feel. The feet and head could use a similar treatment.
5) His left hand (his left) feels sorta like the kind of hands those little lego dudes have. The other one doesn't seem so bad, but I think that left one could use some indication of the rest of his hand between his thumb and index finger somewhere.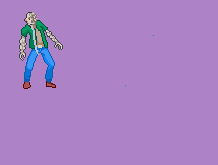 6) He's the cleanest zombie ever.
I like it a lot, tho. It's not shitty at all. I can totally see this in a demake of Left for Dead, being torn apart by point blank shotgun blasts.
EDIT: I edited the image to add a couple more of my suggestions, but it still showing me the old one (which i deleted... grrrr...) Hopefully it works for everyone else...
I moved the knee up a bit, lightened the darker shade for the pants (it was pretty close to the outline color) altered his left hand and modified and added some of the shading on the pants.