1
« on: November 02, 2006, 08:56:05 pm »
So i saw the bloody murder challenge. and it makes me remember the fad when pixelers here used to kill each other, so it brought back memories, though, I didn't do one of my own.
Now back to reality, I'm stuck just when i was left before, cause I didn't pixelled much after those times, so my animation skills are not that good, (that is not gonna stop me) but the mostly i have problems with is that is hard for me to make poses, every time i draw a body I have to draw it static and them make modifications. so this is my WIP of the body, I could use some tips in what I can do to improve the lineart, and also how I could do to make it look more natural.
I normally ask Keops, but he is not here ATM.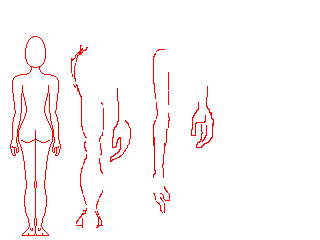 the other stuff next to the lineart, is myself autoshowing how the legs arm and hands should look :3