21
« on: January 25, 2017, 07:26:27 pm »
I just stumbled upon a
tweeted picture
that just illustrates what I wanted to say on the topic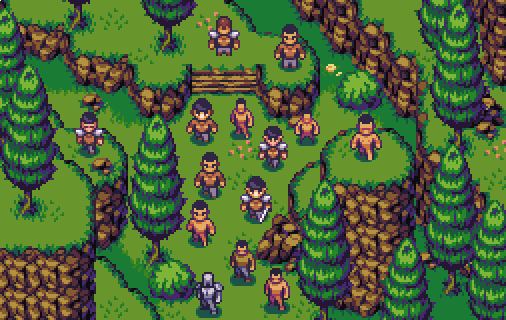 - the balance of colors is important. ocres vs de-saturated greens work well. purple-tinted shadows work also well to suggest a fantasy setting.
- the texture of the grass is implied, rather than painted over the whole picture. That makes the whole less noisy and allows to
use contrast density
to separate navigable areas (flat ground) and non-navigable areas (textured walls/trees).
- by implied, I mean that you spot the grass texture on the shadow/light transitions on the ground.
- individual items (rocks within a pile, bush within an understory) use no art line. shadows and highlight sculpt shapes and this is all we need.
-
tiles frontier
are made organic, so that you can have more natural-looking environments, rather than using straight lines.
HTH.