41
« on: June 25, 2012, 10:47:05 pm »
"Gangstaz need to be cool, they don't need

balance

!!"
Haha, love it!
I don't know; both Cyangmou and Alex have some points. I was definitely going for a drunken stance, so perfect balance is undesirable, but at the same time, there is something about the legs that make the pose not look entirely right to me. The original stance stance looked really really bad, hence why I changed the right leg. Now I'm not liking how the left leg looks; I have the feeling that if she were to be standing perfectly straight, one would be longer than the other. Either way, her legs require more attention.
Now regarding the arms, I didn't even realize it until it was pointed out to me! Even foreshortening doesn't excuse the length of the arms, particularly the right one. The stubby fingers are just me sucking at hands. XD
Back to the drawing board! Hopefully will be able to update this tomorrow morning. Thanks for the C+C so far!
EDIT 6/27/2012:
Finally able to update this.
I started off trying to figure out what was off about the balance. Cyangmou's edit gave me an idea, but I was still stumped. I did some more resrach on balance, posture, center of gravity. I tried to make that pose myself in a mirror. I took off the clothing layer and made a line of balance myself. (Underwear added because I don't feel like adding a [Barbie doll nudity] tag.

).
Which led to...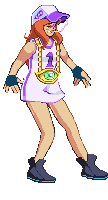 I lengthened the arms, changed her left arm entirely, and modified the legs and feet to put them on the same plane. The changes I made to the legs are kinda subtle; I don't want to drastically change the pose, but if it needs to happen, it needs to happen.