31
« on: July 03, 2012, 03:16:57 am »
I didn't want to post again until I had made some progress... and then decided that's gonna take too long and posted anyway.
@
Grimsame
: Thank you for addressing the recurring problem I have with limbs. As far as her outfit, I guess I should explain what I'm doing. Ultimately, this lady is a parody of
this
character
from the 90s RPG Xenogears--a soldier(!!) who walks around in a minidress with slits on the side and pantyhose (really, Square?)--as a gangsta rapper. Women wearing sport jerseys as dresses, or "jersey dresses" (fortunately for the design, unfortunately for my eyes back in the day) was a style in hip hop circles about 10 years ago. Giving her leggings is something I would do otherwise, but it would take away from what I'm going for. I actually tried to lengthen the jersey dress itself, but it ended up leaving so much empty space, I'd either have to lengthen the medallion (which I ended up doing anyway to a lesser extent), or add more "pizazz"to the jersey itself, which I don't want to do for a lot of reasons. And the no-pants look makes her look more trashy, which is a plus.

@
PixelPiledriver
: Really, really helpful; when I get to animation, I will use that as a reference! I could see what you did actually working as a tutorial *hint* *hint*.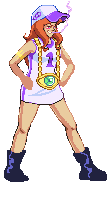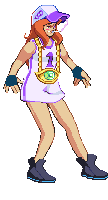 Despite it not really showing, I've been driving myself crazy trying to work on this. I eventually gave up trying to modify the pose as it was, so I went ahead and widened her stance, which hopefully makes balance less of an issue; I'm hoping it's not another bow-legged mess like that old sprite
Grimsane
pointed out. I added more definition to her legs. Reduced color count from 47 to somewhere in the mid-30s. Did away with a lot of the excessive selout. Did some tentative work on the arms to make them look more natural. Changed the facial expression from "look at me, I'm all hardcore!!" to something I hope comes off as something between high and smug. In the process of making footwear leather zip-up boots like in the concept art.
Now I can sleep! Yes...! ... yes!