11
« on: May 23, 2021, 04:49:37 am »
Cool looking lizard dude! I think you need to be careful about prioritizing detail over form, form always comes first. For my edit I tried to make sure the largest forms read and I also tried to fix up the anatomy. Like SeinRuhe said try to think about where your light source is and stick to it. It might even help to a light a sphere to the side as a reference. For me I picked a different position than him coming more from the top rightish (from our POV). I threw in some reflected light to give a better sense of form. I gave his back arm and back leg less contrast as a design decision I felt it helped him read better.
I'd recommend trying to add detail mainly at the transition from light to shadow (
https://i.pinimg.com/originals/f2/64/17/f26417ece2ad240d0f3c517b157e844c.jpg
). This is the place you'll typically see detail but, like I said, I highly recommend making sure form reads. Don't forgo form for detail.
I know he's technically not human but he is some sort of lizard/reptile-human hybrid and anatomy will help add some believability to your character. If you want to get more into anatomy there is a book by Michael Hampton or you can check out Proko's series on anatomy.
The Edit:
Anatomy Breakdown:
https://i.imgur.com/iqMW34r.jpg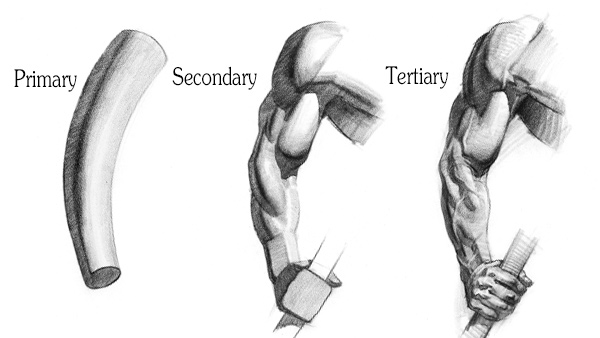 Proko showing what to think of when drawing and shading form. Primary should show through to secondary and tertiary always.