1
« on: August 04, 2007, 07:42:58 pm »
Well, I just got an email yesterday saying I got one of the Runner-Up prizes, so I guess that means it's safe to show off our entry designs (If you still have them

)
Here's my "SpaceBunny" guy that I made: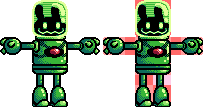 Ugh, I hate the dithering job I did on this... oh well.
What did you guys come up with for this? I'm really interested to see

EDIT: I wasn't sure if this should've gone under "General" or "Pixel Art", but since it's about posting the entry designs, I figured Pixel Art was most appropriate.