1
« on: May 26, 2018, 07:14:45 pm »
Hey Everyone!
I havent posted in here in a quite a while, but I am really happy to share with you all a huge project I have been working on for the last few years.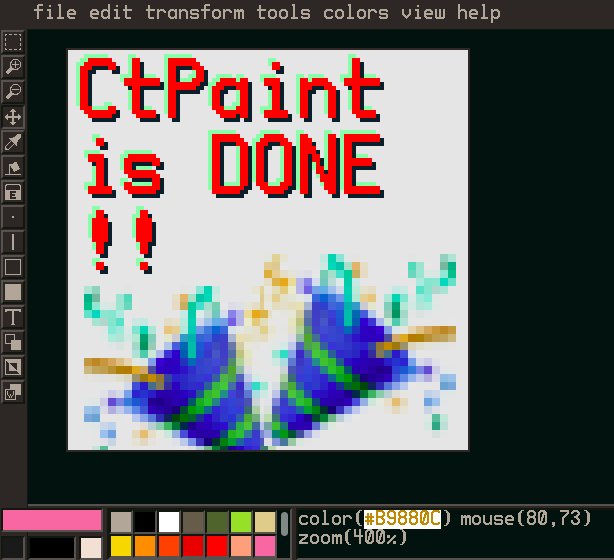 Its called "CtPaint" (
ctpaint.org
), and its a paint program that runs in your web browser. Aside from being good paint software that works really well in such a weird environment like the web browser, I added features like
being able to save to your drawings directly to a url and being able to load any drawing from a url
.
I dont have a complete list of its features, but it includes:
replace color menu
resize canvas menu
RGB/HSL color picker
scale menu
invert
pencil
rectangle
text menu
eraser
line
fill
sample
four swatches and an expandable color palette
zoom
minimap
gallery view
select
color transparency (kind of like how MSPaint does transparency)
Undo / redo
Download to PNG
Im really curious if you like it! If you have any feedback, please tell me, I want to make this software work well for you. When I started this project a few years back I talked to 10 or 20 random folks around here about what they want from their paint software, if you were one of them, thank you again!
Theres still some features I havent implemented yet, like layers, and real transparency. Right now I am just releasing a baseline paint app I can improve upon later.