1
« on: July 13, 2008, 04:23:35 pm »
New private pixel project, just for fun! I am going to pixel several creatures from Nordic Mythology (and Swedish in particular) as figurines. Might do some other cultures' creatures too if I still feel like it. I am also trying out a new pixel technique here: drawing a sketch on paper, scanning, and pixelling ontop of it. So here goes the first figurine in project, and the sketches to the other ones that are planned so far.
First up:
Sjöjungfru (a.k.a. Mermaid, yes, I like mermaids...)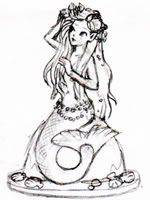 >>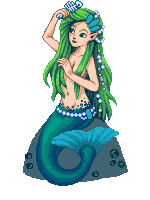 >>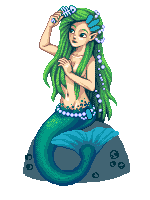 The hand holding the comb is completely wonky. Help? Not entirely sure about the colour of the tail either. Look ok?
Skogsrå:
Forest sprite and guardian in the shape of a beautiful woman with long hair. Her back is hollow like an old tree trunk, and she has a tail. If treated kindly, and if no mentions of her inhuman features are made, she might help the people she meets in the forest. By blowing into the pipe of their rifles to grant them luck with hunting, or by telling them where good spots for fishing might be found. She might also help colliers by waking them should anything happen.
Näcken:
A tragic, but beautiful young male creature (emo?) who sits in the strean playing on his violin. Eternally damned to be without love. He lures people into the stream to drown them. He might teach people to play the violin as amazing as himself in exchange for a sacrifice or their soul. But if they play one of his special polska (dance) too long, they can no longer stop and everyone present will dance themselves into the water and to death, unless someone manages to cut the strings of the violin.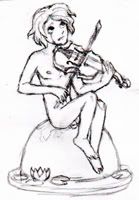 Älvor:
Might be referred to as elves, but are not quite the same thing. These sprites live in the forest and can be seen dancing etherally in big circles. Barely touching the ground. They are very pale, and sometimes they just appear as mist. A human who comes upon them can be lured to join them, or given diseases as punishment. The day after their dances one can find a circle of unnaturally green grass, no grass, or mushrooms where it took place. This is called an elf circle (in Swedish: älvring).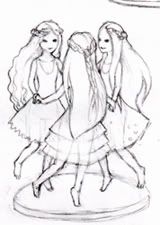 Tomte:
A small sprite that lives together with humans (on farms). They help take care of animals and get along with us as long as we respect them and take well care of the farm.
Vätte:
A sort of sprite that also lives together with humans, although they don't interfer with us unless we do them harm, or a favor. If we harm them (wittingly or not) they can punish us by burning down our dwellings, causing sickness, etc. If we help them when in need they can reward us with amazing gifts.
Troll: