1
« on: June 14, 2006, 11:42:26 am »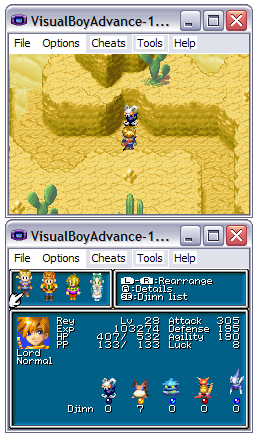 Boredom and too much of that game on my brain. If you've ever played the game, you should be able to spot what I added in immediately. If you don't know--take a wild guess XD
How well did I match the style?
Two concerns I have are--fewer colors in my djinn versus the others, too high a saturation, despite the fact that I took every color from other parts of the game. I'll be messing with these in the future, and probably trying to come up with other fun stuff to make Golden Sun mockups with.
C&C appreciated, especially with regard to how I can make my sprite match the style of the game better.
EDIT: Oh, also planning to try to add one more thing to his body, though i may scrap it because I fear it might end up making the lil' guy look too busy and make his form hard to distinguish.