1
« on: September 14, 2012, 01:18:28 am »
Hay gang, decided to poke my head in and post some stuff I have been working on for the last year. In between my real job, I have been doing pixel art for a mobile game we are hoping to release. I have always admired the skilled artists on this site, many of you better than I could be, but I think things have turned out pretty well.
We have a video and some screenshots here
http://www.saltvalleytally.com/campaign/detail/262
(shameless self promotion blah blah: You can vote for the project, too

)
But here's why you came to this thread... Pixel art! I have done a ton of artwork so I am not going to post everything, but I'll post some choice stuff for now and I can upload more later if you're interested.
And since this site is about criticism and critiques, that is always welcome too.
Some of the Buildings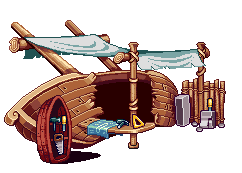 Units







Some of the tiles used to make one map

If you have any comments or suggestions I'd love to hear them. Especially colour or about terrain and foliage... never my strong suit. Thanks, gang.