1
« on: November 20, 2007, 04:47:53 pm »
Well it's been ages since I last posted here on Pixelation, and because there has been quite some development, regarding my personal project, I decided to open up a dump, that I will update with new stuff every now and then.
Feedback is ofcourse highly apreciated.
first things first. The new installment of my shoot em up will be made in Highres 1024x768 instead of 320x240. That's why I assembled this massive mockup: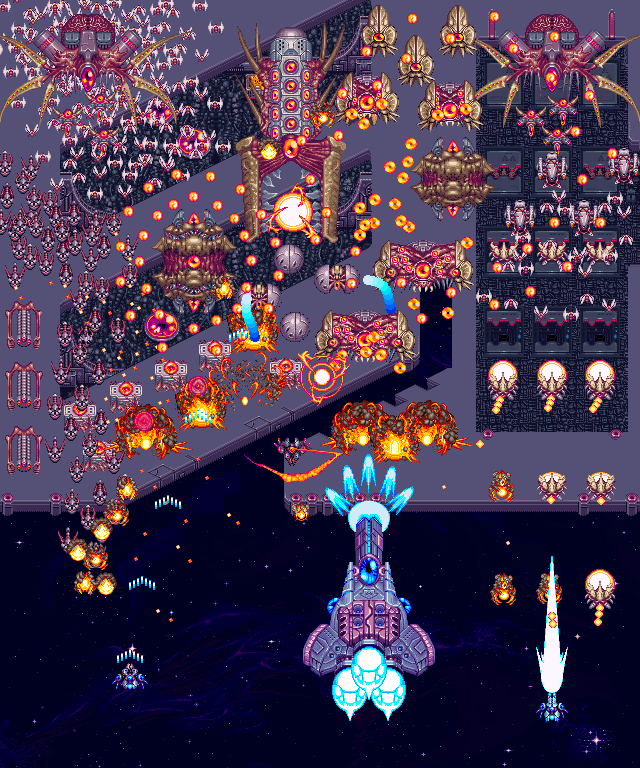 there are black bars left and right, as well as a HUD, but since that was not final, I did not include it for the final installment of the mock...
there are 8 easter eggs as well! most have to do with Pixeljoint members.
Now this mock only contained enemies designed for the 320x240 version... here's a new one specificly designed for Highres:
still WIP, but you get the idea...
The restless soul, automaticly goes into standby, when low on health.
If you don't kill it completely in time, it will reactivate with full health.
though it also has it's benefits, like the added score and chain after each kill,
so you can milk it for points
and as an added bonus, here's Aki, a character I recreated in a higher resolution, from an old mockup of mine.