1
« on: September 19, 2009, 03:29:00 pm »
Ooh, I really like some of those splash screens.
Hullo! I'm Theo. I found out about your site through TIGSource, and after much lurking decided to finally join for reals. I'm still learning a lot about pixel art, especially animation.
I do a lot of different kinds of art,
including this little animation for
a game
I'm currently collaborating on: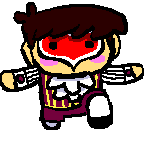 Nice to meet you all!